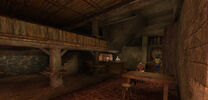 "The Yellow Tulip" is a tavern, know before
The Great Migration
as "The Yellow Rose". Here "folks gather around to drink and complain".
Location
Edit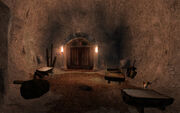 The Yellow Tulip is located in Level 1
,
The Human Outpost
, at the end of a tunnel starting from the outpost (near
The Door to the Outside World
).
Connections
Edit
Behind the password protected door there are some stairs, guarded by an
Ylside
, which lead to
The Temple of Akbaa
.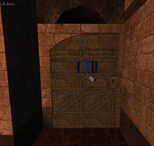 Characters
Edit
 Tizzy - The owner and the bartender of the bar.
 Enoil Calpale - Sits at a table on the first floor, in front of the stairs. 
9 Bottles of Wine behind the counter (considered stolen if taken), 1 on Enoil's table.
2 Bread behind the counter (considered stolen).
4 Cheese behind the counte (considered stolen).
Specials
Edit
You can buy beer from the bartender for 2 gold coins or wine from the barrel next to the bartender for 10 gold coins.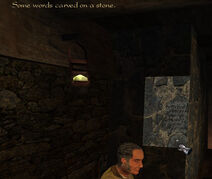 On the wall at the left of Enoil there is an inscription that starts the quest A Treasure Hunt.